Make Money with your Blog
Blog Monetization 101
In this article, I'll cover the necessary steps to make money on your blog.
Note – There is a resource section at the bottom of this article.
Don't have a blog yet? – Start here!
What we'll cover:
Myths about making money online
Setting up affiliate accounts
Ad placement
SWAG – Print-on-Demand services
Myths about making money with a blog
I have a blog, but I don't get many visitors. Can I still make money?
Does this sound familiar? Is this you? There's been a myth out there for a while that you need tens of thousands of visitors to make any money from a blog. You know your content. You know exactly what you visitors will buy.
It's expensive to become an affiliate.
Couldn't be further from the truth. In most cases becoming an affiliate is FREE!
I can't get any sponsors to send me free product.
Welcome to the club. Think about all the stuff you buy… OK now, can't you write about whether you liked it or not? Can you tell people why your kids liked it? Easy enough, right?
Let's get some affiliates set up!
OK! You have a blog.
The first thing you want to do is set up a few affiliate programs. Some require an approval process; some are immediate. This isn't your typical article that will tell you to just set them up, but let's go over why and how.
You're excited to make some money. Why Wait?
Get started by signing up for Amazon affiliates (Click here to open it in a new tab). It's easy and anybody can do it. You're granted immediate access to their catalog. You can promote just about any product on Amazon too. Make a commission on it when someone clicks your links and buys within 30, 60 or 90 days, depending on the program.
Pro Tip: If you have a niche blog, do a top 10 of your favorite products in that niche category. It's a quick way to start making money. Write a few sentences on each product.
Another great and very reputable affiliate network to join is ShareASale. Here you'll need to apply to each product or merchant that you want to promote. It takes a day or two (I've never been turned down). The results are awesome. The merchants that participate have great assets (art/ads) in mobile friendly sizes. I've even seen some that are animated offers.
Pro Tip: With each of these, you need to provide your SSN or tax ID number. You'll want to also set up direct deposit for your commission payments. Just makes everything a lot easier and expedites the whole process.
Both these options provide simple user interfaces that allow you to search for products and copy code to place them on your blog post or page.
Best Ad Placement on Blog Posts
Placement of ads on your blog is as much an art as it is a science. Too big and gaudy, users will get annoyed and leave your site altogether. Too subtle, users won't notice them. Remember, you want users to engage with your blog often. Don't annoy them. We've all been on clickbait websites that have ads popping up everywhere so we accidentally click them. Proven methods of longevity on repeat visitors generate consistent revenue. In short, be the blog you would want to be on.
Pro Tip: Place ads before, during, and after videos. If you're a video blogger, many WordPress themes are tailored just for you. Find a theme that has preroll and post roll ads. I love the OneVideo WordPress theme from the Envato Marketpleace. Check it out here.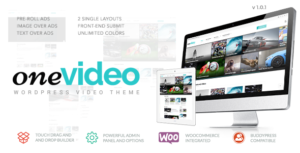 Ads between paragraphs of your content are fine too. Make sure they're small enough so the user can see your continued content below the ad. Vertical ads along the side of you blog are great. These are called sidebars. Sidebars are nonintrusive, can be configured to be sticky; where they scroll along the page with the user. I create custom widgets in WordPress to tailor my ads to each of my posts. Look at this page. You have links to ShareASale, Printaura and Printful. On my "How to Create a Blog" post, I have links to GoDaddy.
Ads do not need to be specific to the product or topic of your page. If your post is a tutorial on installing a garbage disposal, I'd probably post ads to a home services site, like Angie's List. Because we all know we bite off more than we can chew with a DIY home repair.
Pro Tip: Affiliate linking from your blog isn't just about generating a click, sale and collecting your commission. Use your new found affiliate linking skills to create that value added service for your readers.
Sell T-shirts, Bags, Mugs and more with Zero Inventory!
Print-On-Demand is an overlooked service that has potential to generate some serious revenue.
What is Print-On-Demand (POD)?
POD is exactly what it sounds like. For t-shirts, coffee mugs, posters, totes, hats and even leggings, you upload your designs, in their tool you create the mockups for your store. Whether you're using WooCommerce or Shopify, two of the POD leaders, Printaura and ThePrintful both offer easy integration. Check out my "One Bite At A Time" shirts in my online store. It took me maybe an hour to take MY design and create the mockups and then integrate to my store, via an easy to setup API.
Pro Tip: You can even integrate your POD products to Etsy for added visibility. Remember to add search tags to show up on shoppers search results.
Partnering with a POD service is a great opportunity to open a true e-commerce website and not have to carry any stock or manage any of the shipments. You can set the invoicing and return address to be branded your business/blog. You set the selling price. You select how you want to ship it. I chose to have all tags removed and for it to be shipped individually in its own plastic bag. Options also let you have your own custom tags be added too. -Not something I opted for… yet.
How does this work for you? OK for example, right now, I am wearing a t-shirt that my wife HATES. It has a giant rainbow on it and reads "This Is My Killing Shirt". Why am I wearing it? Because it's ironic for a rainbow shirt to say something like that. But I still paid probably $30 for it. Do you have some great design ideas for t-shirts, hoodies, hats, mugs, or even socks?
Are you an artist, cartoonist or graphic designer? What a great way to show off your designs. Turn your readers into walking billboards with conversation pieces. Maybe even add your website/blog URL to it?
Pro Tip: Add your domain or blog name to your designs for added visibility.
Making Money with your Blog :: Resource Center
Amazon Associate Program – Instantly gain access to hundreds-of-thousands of products. Earn your commission
shareasale.com, Earn Cash! – Affiliate network with 90,000+ products. Participating merchants offer great collateral and ads for actionable
OneVideo WordPress Theme – Ad friendly video theme for video blogs and video content websites.
Printaura.com – Print-On-Demand service. Easy integration to WooCommerce, Shopify, Etsy and more.
ThePrintful.com – Print-On-Demand service. Easy integration to WooCommerce, Shopify, Etsy and more.
Have questions or comments? Do you want some one-on-one advice about your blog? Drop me a line below!